Finally have some below freezing temperatures in Virginia Beach. You may be asking yourself "what good is cold weather without the snow"? I know what you mean. That's why last year I built a snow gun. We won't get into how it's managed to convince mother nature to actually snow on her own – might just be a side effect of all the fun and anticipation.
There are several options for building a snow gun, and you can even just purchase a kit. What's the fun in that?
What You Need:
Air Compressor
Garden Host and faucet
Snow Gun
Parts to Build A Snow Gun:
This is a little tricky as parts may need to be adjusted based on your hardware store.
¼" cap – QTY 1
6" x nipple – QTY 1
¼" x Tee – QTY 1
¼" x 90 DEG street elbow – QTY 1
¼" close nipple – QTY 1
¼" mini ball valve – QTY 1
2" x nipple – QTY 1
¼"female x ½"male bushing – QTY 1
½"female to Garden – QTY 1
Quick connect air fitting – QTY 1
Roll of Teflon tape
7/64" drill bit
The galvanized parts were hard to come by so I did all brass. Plus brass doesn't rust so bonus there. After you put all the parts together you'll want to turn off the valve for water flow and turn on the air compressor. Failure to do so will put air in your water lines. Whatever you do DO NOT turn on the water with the air compressor OFF, it will flood your compressor with water. Water in an air compressor is bad as normal condensation causes rust if not properly drained.
The results
This is the result of blowing snow for 8 hours with wind. It will take about a day with this setup to make snow worthy of doing anything other that looking pretty.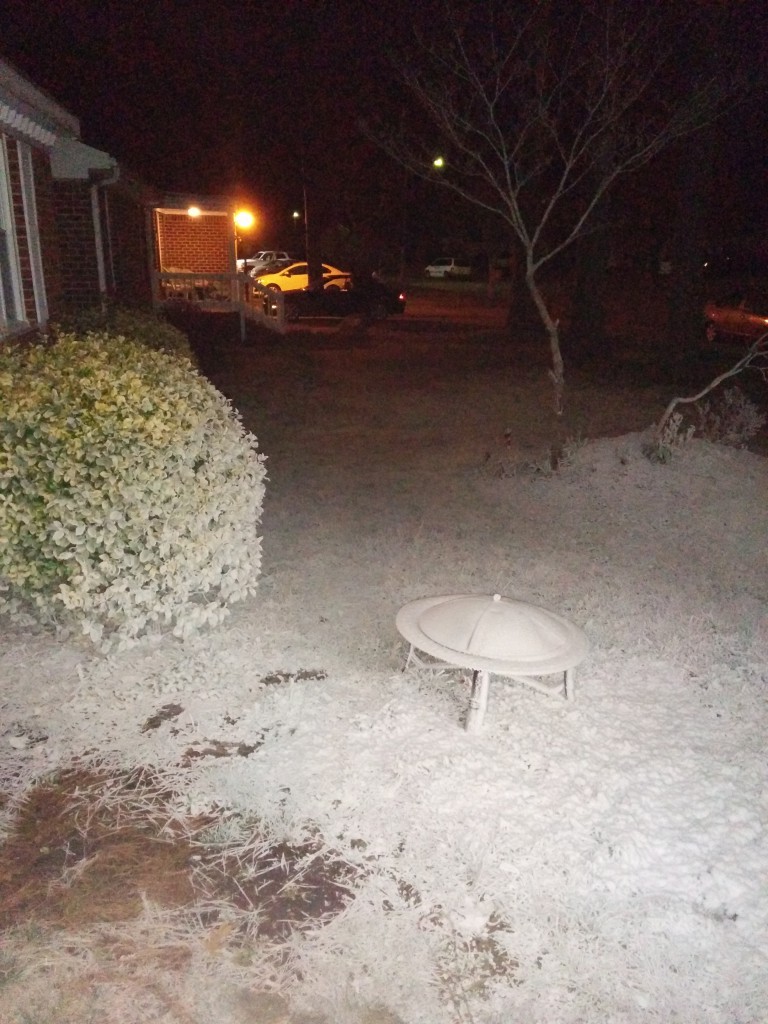 Detailed setup can be found at http://www.snowathome.com/free_plans/SAH-SG_t-type_internal_mix.php. Additional plans for other type designs along with snow making alerts delivered to your email can be found at Snow At Home.